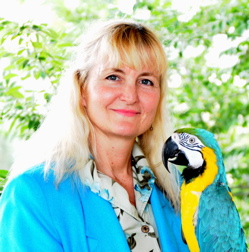 In the course of almost four years hosting Bird Talk LIVE Online on Bird Talk Radio I have learned
many new things during every show.
Enjoy this highlight of the entire conversation with Leslie Moran of bestbirdfoodever.com and healthybirdproject.org
I learned from Leslie Moran much about sprouting bird food.
That water quality is very important when sprouting foods.
Using distilled water to sprout foods removes or leaches
nutrients from the sprouting foods.
Tap water may have high arsenic levels.
Sprouting blend can be cooked into a mash or sprouted in a jar.
Parrots health problems can be reversed or cured with the holistic approach to caring for your pet bird.
Sprouting blends are a complete protein. The absence of complete proteins in parrot diet and humans causes malnutrition resulting in sickness, disease, debilitating health problems and fatalities.
Enjoy this highlight of my entire conversation with Leslie Moran Avian Author and
proprietor of Best Bird Food Ever and the Healthy Bird Project.
I hope you have enjoyed this segment of highlights from our recent Bird Talk Radio
shows. We stream the bird love 24/7/365 on our streaming show network and podcast
networks. We do it all for YOU. The individual bird owner, avian professional
and people thinking about having a pet bird. Find all of our informative educational
bird talk radio shows and more at birdtalkradio.com. I am your host Mike Kiger.
Thank you for tuning in today!